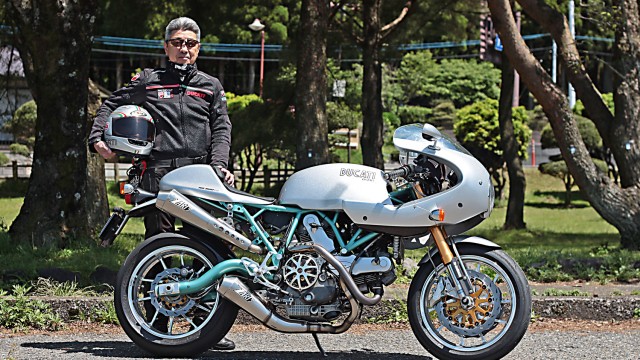 Street Portrait #21
Noritaka
What's your name or surname ?
My name is Noritaka Ishihara.
I am 60 years old.
What do you ride ?
I get on Ducati Paul Smart 1000LE.
I am the president of Japan Paul Smart Club.
What would be the motorcycle of your dreams ?
My dream is to continue riding this motorcycle until 80 years old.
And another dream is to live in the Isle of Man.
I already got a friend in the Isle of Man.
Where do you live ?
I live in Kyushu of Japan.
There is Mount Aso and a large grassy plain there.
This is the best place for a rider.
What is your job ?
My work is materials sale of bread and cakes.
I am the president of company.
However, I retired myself from the work at 60 years old.
The reason is to enjoy my next life.
How would you define your « riding style » ?
I use a separate suit of DAINESE habitually.
The helmet is SUOMY.
They are because they are made in Italy.
Do you have a good motorcycling address to recommend ?
The shop of the motorcycle which I go for well is « La Bellezza ». It is a specialty store of Ducati.
This team has been participating in « Suzuka eight hours endurance race » for 16 years. It is a famous factory team. The owner of this shop is my friend.
What is the best advice you have ever received about riding a motorcycle ?
I like performing riding of a curve at fast speed.
It is important that « a person and a horse » become same to perform it.
To that end, you must continue riding one motorcycle for a long time.
And there is one more important thing : it is important that I make an effort every day to keep physical strength.
Photos : Cam and personal archive from Nori
You ride a motorbike ? If you want your Street Portrait to feature on our blog, please send us an email at kissnvroom@gmail.com !