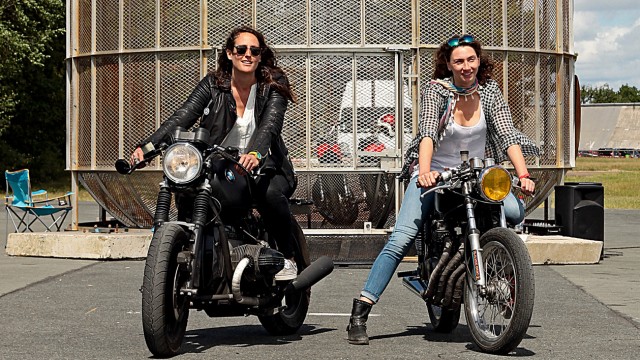 Street Portrait #27
Aurélie & Nathalie
What's your name or surname ?
Aurélie
Nathalie
What do you ride ? What would be the motorcycle of your dreams ?
Aurélie : I have a BMW R65 from '87, a custom Triumph Thruxton is a bike I would like to have.
Nathalie : I ride a Honda CB 400 from 1976, café racer (with many thanks to Ryan from CB Customs :)). I'm thinking about a more recent and comfortable bike for daily use, but I still want to love the 'look', and I'm not really fond of modern bikes so I haven't decided yet (and in the end it probably won't be that 'recent' 😉 ).
Further there is a project waiting for some love in the garage (a CB 650) which I still want to 'become' a café racer but I want to find a compromise between looks and comfort… If I succeed maybe I forget the whole 'recent-bike' thing 🙂
Where do you live ?
Aurélie : I live in Ghent, Belgium.
Nathalie : Near the town of Ghent in Belgium.
What is your job ?
Aurélie : I'm a teacher.
Nathalie : I work in the bank sector.
How would you define your « riding style » ?
Aurélie : My riding style is just cruising around with friends, not really going too fast, going to events, café racing 🙂 My clothing is more fashionable than functional.
Nathalie : Take it easy.
What is your most important memory or souvenir about motorcycling ?
Aurélie : Riding around in Paris the weekend of the Café Racer Festival is something I'll remember.
Nathalie : Driving to and through Paris the weekend of the Café Racer Festival 🙂 It was not as crazy as I feared for (and I think I never got complimented as much ever before, but I suspect the bike should take credit for that instead of me 😉 ).
Who is your best riding mate ?
Aurélie : I have several riding mates, since we have a group of friends who all ride similar bikes.
Nathalie : I like driving alone, but otherwise bf Ryan.
Do you have a good motorcycling address to recommend ? 
Aurélie : I don't really have an address I can share, but I can recommend renting a bike in Indonesia, beautiful country to visit by bike !
Nathalie : In Ghent, there's 'DOK' at an old dockside, always fun stuff to do (check it out here). There's a bar, food, concerts, art, second hand market on Sundays etc…. And more rural, next to the border with the Netherlands, where it is also beautiful to ride, there is Café Passé, there is even an old Honda standing in the bar 😉 so it can't be bad right?
What is the best advice you have ever received about riding a motorcycle ?
Aurélie : Don't ride with closed gasoline taps 😉
Nathalie : I would say 'drive at your own pace' (don't let others push you).
Photos : Cam & Clara
Vous êtes motarde ou motard ? Si vous voulez voir apparaître votre Street Portrait dans nos pages, n'hésitez pas à nous contacter pour une interview / séance photo à kissnvroom@gmail.com !